Listed in Beauty Spas in Dubai, Day Spas in Dubai, Destination Spas in Dubai, Facial Spa Treatments in Dubai, Health Spas in Dubai, Hotel Spas in Dubai, Massage in Sheikh Zayed Road, Spa in Dubai Hotels, Spa in Sheikh Zayed Road, Spa Treatments in Dubai, Spas in Dubai
The Ritz Carlton, Sheikh Zayed Road, Dubai, United Arab Emirates
+971 4 399 4000
Spa in The Ritz Carlton Sheikh Zayed Road Dubai

Spas in The Ritz Carlton Sheikh Zayed Road Dubai


REPLACING WORLDLY CONCERNS WITH A WORLD OF COMFORT AT OUR SPA RESORT IN DUBAI.

The Ritz-Carlton, Dubai spa completes the holistic resort experience where mystical Eastern influences blend seamlessly with European wellness. Our Dubai spa resort features nine multipurpose treatment rooms; three private rooms, each with its own terrace; separate relaxation lounges; and a dedicated "hammam" area. Indoor hot and cold plunge pools and an outdoor lap pool are ideal for guests searching for a more active resort lifestyle.
In addition to the services and amenities offered at our luxury spa hotel, guests can stay committed to their work-out routines in the hotel's state-of-the-art fitness center. Complete with treadmills, stationary bikes, free weights and group classes, guests can enjoy a work out and then indulge in a day of pampering at our spa resort.
SIGNATURE TREATMENTS


REJUVENATE & REPAIR DIAMOND ROSE RITUAL
face/body 140 min
An ultra-luxurious ritual, which begins with the application of a luminous blend formulated with damask rose and exclusive diamond dust. The magnetic properties of this treatment are enhanced with a massage which helps to activate vital energy and soothe accumulated tension. This exceptional treatment also includes the Diamond Life infusion facial.
RELAX & DE-STRESS RITUAL
body 120 min
Your skin is pampered with our vitamin C body polish and soufflé mask, followed by a massage with handcrafted obsidian and marble stones. Warm and cold elements throughout the treatment realign energy and revive the most tired of souls, leaving you relaxed and revived.
DETOX & CLEANSE SLIMMER RITUAL
body 120 min
The treatment will begin with a full body exfoliation followed by a manual manipulation technique that will stimulate the lymphatic system to support the effective elimination of toxins A personalized plan will then be recommended for a series of treatments, though you will see and feel results after just one.
ENERGISE & AWAKEN RITUAL
face and body 120 min
Be embraced in dewy warmth with this unique hammam inspired treatment. We begin by scrubbing the day away from tired skin with gentle exfoliation, followed by a nourishing mask that is spread over the whole body. We complete the ritual with a soothing massage designed to leave your entire self restored and glowing.
MASSAGE

QUIROGOLF MASSAGE
body 60/90 min
This experience is perfect for sports enthusiasts! Golf ball in hand, your therapist will focus on relieving even the most stubborn of knots.
THAI MASSAGE
body 60/90 min
Coined 'the lazy mans yoga' throughout Thailand, this massage incorporates stretching and rhythmic pressure over the whole body to promote flexibility and suppleness of the muscles. No oils are necessary for this beautifully crafted treatment.
BALINESE MASSAGE
body 60/90 min
Balinese massage techniques include acupressure, skin rolling and flicking, firm and gentle stroking, and percussion. This deep-tissue massage treatment promotes relaxation, brings a release to deeply tense and knotted muscles, and stimulates the lymphatic and circulatory systems.
HOT STONE MASSAGE
body 60/90 min
This experience is ideal for those with tight or aching muscles. The therapist uses gently heated stones as an extension of their own hands, working deep into the muscles for maximum release and relaxation.
JETLAG MASSAGE
body 60/90 min
For the weary traveler this treatment has been designed to either prepare you for a restful night or to energize you for the day ahead, depending on your needs. A massages that focuses on the back, feet, scalp and face to address all the areas effected by travel, this treatment will bring you into the right time zone to enhance your stay.
ARABIAN DREAM FOUR HANDED MASSAGE
body 60 min
Relax and lie back while our therapists take you on a journey of pure tranquility. This choreographed massage has two therapists working in synchronicity to deliver the perfect full-body massage.
TREATMENT ADDITIONS & ENHANCEMENTS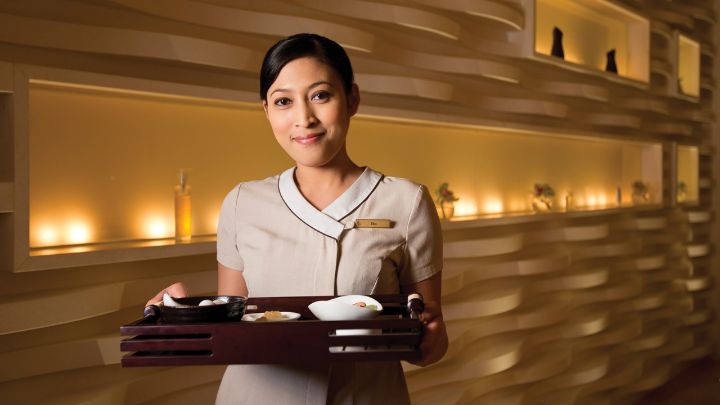 BOOSTER FACIAL
face 30 min
Ideal for those looking for a 'quick fix' in minimum time, this facial provides deep hydrating and nourishing to leave your skin looking refreshed and rejuvenated.
TENSION MELTING BACK MASSAGE
body 30 min
The perfect add-on for those looking for relief from tight or tender back muscles.
ORIENTAL FOOT MASSAGE
body 30 min
Incorporating elements of reflexology, this treatment targets sore and tired feet.
THERAPEUTIC SCALP MASSAGE
body 30 min
Aids in relaxation and rejuvenation by stimulating blood flow.
HAMMAM SCRUB
body 45 min
Literally scrub away the tensions of the day with gentle scrub exfoliation in our hammam room.
TIRED LEGS
body 45 min
A treatment focused on the legs and feet, to relax you for the day ahead.
EYE TREATMENT
face 15 min
Reduce puffiness and dark circles with this deeply hydrating, focuses treatment.
NOURISHING HAIR MASK
hair
Leave your follicles and hair as refreshed and hydrated as the rest of you with this add-on.
PARAFFIN TREATMENT
hand or foot
Benefit from pain-relief and deep hydration with this add-on for hands and/or feet.
FACIALS


DIAMOND LIFE INFUSION FACIAL
face 90 min
Global anti-aging at its best! Science and nature combine in perfect harmony for this spectacular facial. Bio-magnetic components act on our own bio-age markers to allow a deeper and more abundant infusion of product to the skin. This treatment is sure to leave you looking radiant and rejuvenated.
THE DETOX CURE
face 75 min
If deep cleansing is what you are after, look no further. The Detox Cure utilizes a three-phase exfoliation to slough off the old and make the most of a cutting-edge thermo-active enzymatic detox to get deep into those stubborn congested pores, leaving you with a truly luminous complexion.
AGE-RECOVERY FACIAL
face 60 min
If you don't want to worry about choosing the right facial, then let us decide for you! Lay back and relax while one of our trained experts closely analyses your skin's needs and designs a treatment just for you.
O2 AWAKENING
face 60 min
A facial treatment for those suffering from exposure to toxins and pollutants. Our light-as-air formula penetrates the skin and releases pure O2xygen molecules into the epidermal layer to re-energize natural cellular functions and eliminate toxins, leaving you revived and rejuvenated.
CITRUS – A – PEEL VITAMIN BOOST
face 60 min
Give your skin a boost of energy with 100% pure Vitamin C. This anti- oxidant treatment relieves sun-damaged skin and helps fight the signs of premature aging. Skin will emerge nourished and revitalized.
GENTLEMEN'S FACIAL
face 60 min
Especially created for men, this facial is designed to cleanse, refresh and hydrate deep into the epidermal layer, leaving your skin looking and feeling younger.
BODY TREATMENTS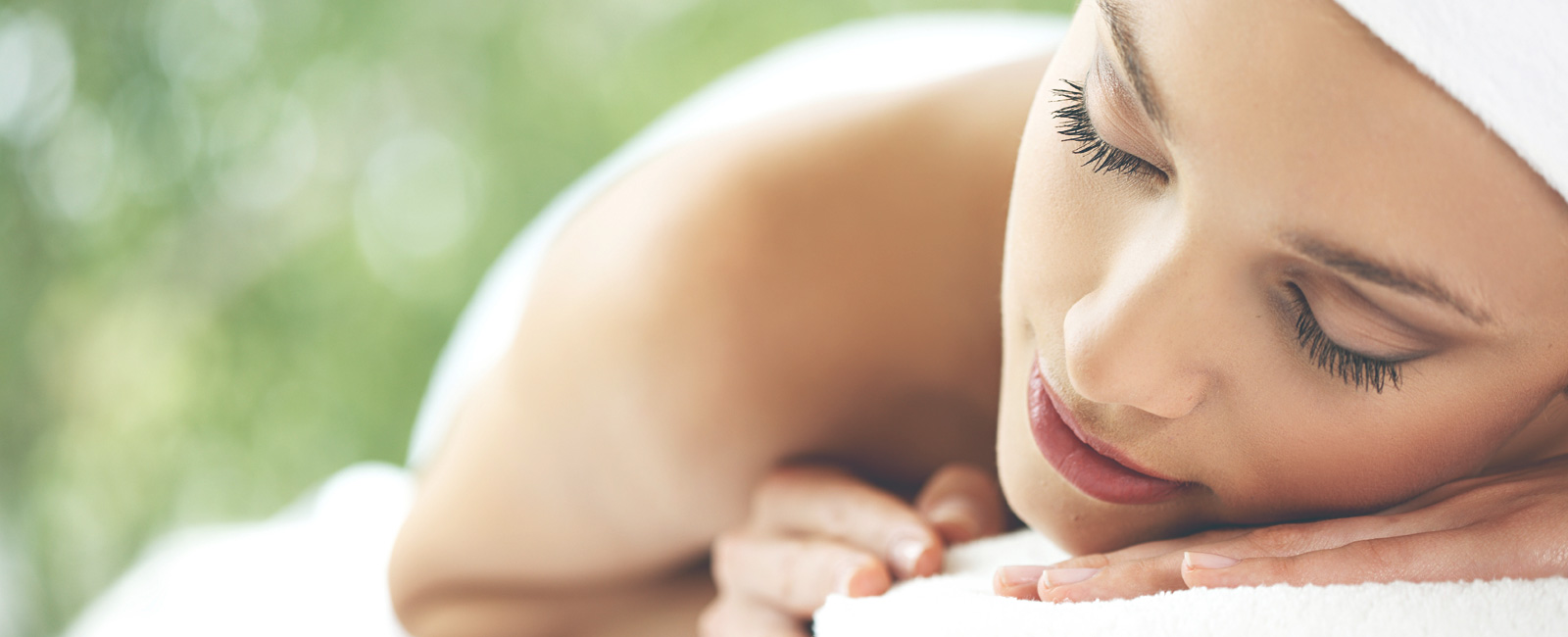 DIAMOND ROSE RITUAL
body 90 min
This beautiful treatment incorporates amazing aromatherapy with a luxurious and exfoliating massage with diamond dust, followed by a soft and gentle massage with rose oil, leaving you feeling rejuvenated, relaxed and stress-free.
LIPOCELL SCULPTING
body 60 min
Target and treat stubborn cellulite. This treatment is to be done in a series that is developed with your therapist, although the benefits are visible after a single treatment. Choose your target area for the concentration of the treatment: thighs, stomach, back of arms, or buttock.
C+C VITAMIN SCRUB
body 45 min
Get ready to glow! This body polisher is a great way to start off a vacation or give tired skin a quick boost. Vitamin C and E, along with a soft sugar exfoliant, leaves you feeling and looking as radiant as the sunshine of Dubai.
The Ritz – Carlton


As the sun sets over Dubai beachfront hotels, the fresh scent of bakhoor fills the lobby. Lit torches cast shadows over lush gardens. Following centuries-old traditions, the lighting of our home – and that of our guests for as long as they are here – is complete. Tradition, effortlessly enfolded into an elegant modern setting, is what makes The Ritz-Carlton, Dubai such a mesmerizing experience. From the rose petal-strewn fountains and the stunning Mashrabiya enhanced woodcarvings that greet guests in the hotel lobby, the sense of place is immediate and enveloping. Yet it's the modern comforts and luxuries that make this luxury beach hotel one of the more memorable experiences you will take away from Dubai. Spend your days indulging body, mind and spirit at this intimate retreat and your nights enjoying some of the world's premier dining, shopping and night life. In addition, guests of our luxury beachfront resort may also enjoy:
• A Mediterranean-style beach resort providing renowned Arabian hospitality in an exclusive setting
• 294 rooms and suites with private balcony or patio overlooking the pool, garden and Arabian Gulf
• A prime location adjacent to The Emirates Golf Club and nearby shopping malls
• 35,000 square meters of landscaped gardens
350 meters of pristine white sandy beaches
• A short walk to the cosmopolitan The Walk at JBR, Dubai's only beachfront promenade of luxury retail shops and al fresco restaurants and cafés
• The Ritz-Carlton Spa – Nine multipurpose treatment rooms; three private rooms, each with its own terrace; separate relaxation lounges; and a dedicated "Hammam" area
The Ritz – Carlton
P.O. Box 26525Dubai, 26525 United Arab Emirates
Tel: +971 4 399 4000